WELCOME TO RETRO CENTRAL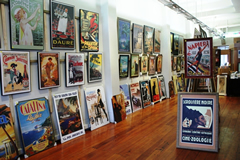 Welcome to Art Retro's world of vintage poster art. Art Retro offers on-line buyers a stunning range of framed art, steeped in nostalgia, in the form of wall ready mounted and framed reproduction prints of the glorious advertising posters of yesteryear.
We source our prints and posters from local and international art print publishers and distributors, then individually mount and frame them in a variety of creative styles to produce the amazing and stunning wall-ready retro art viewable on our website.
If your choice is for surprisingly inexpensive retro art for your home, office or workplace, that guarantees a point of focus and an outbreak of the warm fuzzies, then look no further than Art Retro's glorious gallery.
Happy viewing!

Please Note – we are currently servicing only the New Zealand domestic market.
ART & CRAFT MARKET STALLS
Art Retro has a regular presence, weather permitting, at key outdoor weekend markets in the Auckland region and at selected craft fairs around the country.
We clear surplus stock regularly, and end of line items at heavily discounted rates through our market stalls.
Click here for current market schedule

PLUS
Check out our huge selection of $18 vintage mini prints available only at our market stalls